If you're looking for elegance in black and white, aa Nitro may just be what you need.
A purebred American Saddlebred, Nitro is due to land in Australia late November and arrives in Perth at Christmas. Nitro is 3 1/2 and is still maturing, expected to top out at 17hh.
Nitro is tested homozygous for tobiano pinto and homozygous for black. This means you are 100% guaranteed to get pinto foals and Nitro cannot produce chestnut foals. Nitro is also black himself, so you have a 100% rate of black and white pintos from black mares.
Nitro comes from a family of horses that are consistent in type and quality, and are proven competitors in halter in both Saddlebred and Pinto open competition and under saddle and in harness to world champion level.
He is the right blend of performance, quality and pinto colouring and we expect his foals will make quite the splash on debut in Australia.
To celebrate Nitro's arrival in Australia, we are offering the chance to win a free live service to Nitro for the 2009 breeding season.
All you have to do is send an email to:
[email protected]
telling us why you would like Santa to bring you a little Nitro baby. You must include your name and address as the winner will be notified by mail.
We will be drawing this prize on Christmas Eve the 24th December and will notify the lucky winner by post and on our website!
This prize is valued at $1200 and includes our LFG
. The winner is still liable for agistment costs, veterinary etc as per our standard breeding form. The draw is open to all, not just Stockies members.
Happy Holidays!
Silvia Kutle and Romana Medlobi
Black Orchid Stud
http://www.blackorchidstud.com.au
Nitro at 3 months:
Nitro's sire Hot Every Nite: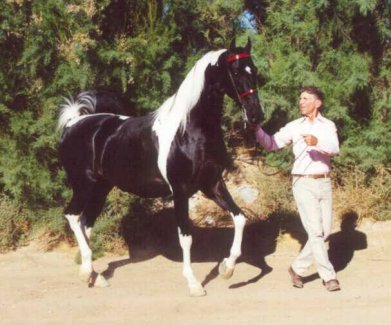 Last edited: