Need help....
I'm after a super duper blingy BB in full size.
Colours im not sure on, so any help!
Horse is bay/brown Tobiano & a young stallion, so no pinks.
Must be blingy, must be well made
& not fall apart..... nothing too bright (colours), lol.
Please PM me with what you may have, or could make up.
BEB, i really liked the black/white one you made but unsure if the colours would suit.
This is the head it'll be on.
*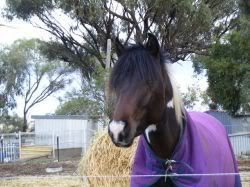 credit Springbok